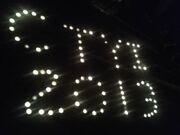 2013 was a good year.
Dates
Session 1 ran from the 24th of June to the 12th of July.
Session 2 ran from the 15th of July to the 2nd of August.
Quotes
As usual, quotes go to the designated quotes page.
Session 1
Courses:
Japanese
Social Psycology
War Studies
Computer Gaming
Computers and animation (A and B)
Criminology
MEDICINE!, (how was this forgotten?)
Cutting-Edge Science
R.A.s:
William Dunne/ HM The Kaiser
Ciaran (King of Sportalia) Leinster
Shauna (SS) Stanley
Ruth Concannon
Emily Daly
Sarah Deegan
Michael Sullivan 
Stephen (Pizza) Flannery
Brian Arnop
Dominic Kelly
Noteworthy Happenings:
First Hexagonal-based Snapple tower
Session 2
Courses:
App Design and Development
Behavioral Psychology
Popular Fiction
R.A.s:
Ruth Concannon
Ciaran
Michael Sullivan
Shauna Stanley
Conor Bates (Yes, that one)
Brian 
Donnacha
Siobhan 
Fiona T
Fiona B
Dom
Noteworthy Happenings:
The first session 2 Snapple tower
Ad blocker interference detected!
Wikia is a free-to-use site that makes money from advertising. We have a modified experience for viewers using ad blockers

Wikia is not accessible if you've made further modifications. Remove the custom ad blocker rule(s) and the page will load as expected.