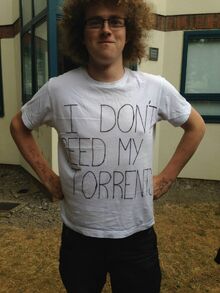 Ogden Deacon attended CTYI from 2011 to 2013. He may have been known for his Diabolo, or his saxophone, or possibly his hair.
Session 2 '11
Ogden started in Psychology, but moved into Philosophy after a few days. He introduced the Diabolo craze, and performed with his Diabolo during the talent show.
Session 2 '12
Ogden attended the Engineering course this year. He played saxophone in the talent show in a rendition of Minnie the Moocher.
Session 2 '13
He took the Journalism class, and pumped out various articles into the end of session newspaper, The Daily Dodge. He sand backing and played piano in the talent show in a rendition of Brass Goggles by Steam Powered Giraffe (the singing mu-mu-musical automatons!)
Nevermore After-years
Ogden keep in touch with many friends from CTYI, and regularly attends reunions.
Soundcloud: http://www.soundcloud.com/ogdenface
Twitter: http://www.twitter.com/TheOblongSpider