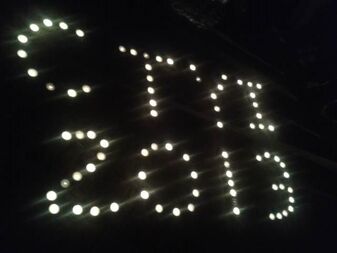 The Candlelit Ceremony is a wonderful exhibition of everything CTYI: people who will see each other the next morning and every second Saturday for the next year cry as though they will never meet again; songs are sung for no particular reason after 3 hours of song-singing at the last disco; and RAs exercise control over students' bed times. Those nevermores that attend act as choked up as the newbies and candles are lit in the shape of the letters "CTYI" followed by the year. There is also the addition of the Snapple tower to the huddle. Those more experienced CTYIzens (often never/no-mores) may feel the compulsion to give speeches and consolation to those joining them on the voyage out of the campus the next morrow (see The Day the Music Died ). In contrast to the more calm Passionfruit Ceremony, all may attend but few get to speak. Many commuters choose to stay past the last disco until 1am or later, depending on the RAs' (and more importantly the ARC's) decision. The phrase "Don't cry because it's over; smile because it happened" - stolen from one Dr. Seuss - sprouted as a result of the magnified sadness due to leaving felt by many at this time. 
Songs and Speeches
Among the songs often sung at Candlelit Ceremonies are: Hey Ya; Skinny Love; Time of your Life (Good Riddance); and any other song that comes to mind. Those CTYizens that feel up to it may take it upon themselves to make a short speech to cheer up the mood and/or vent their own emotions. Often they congratulate others for being the most [positive adjective here] person they know and generally speeches are rounded off with a gracious shout-out to the entire session for changing their life and the lives of others there.
Corridor Parties
There have been instances of the allowance of corridor parties after the Candlelit Ceremony, during which students use up the remainder of their provisions in an extravagant pooling thereof for their entire corridor (and hence entire RA Group). Those in the half corridors may choose either to join their mainland counterparts or keep to themselves..